NAI Chase Commercial Represents Eikon Research, Inc in Leasing of 8,890 SQ FT of office / lab space in Corporate Headquarters Property Search, in Huntsville, Alabama
PRESS RELEASE-
January 18, 2023
NAI Chase Commercial Represents Eikon Research, Inc in Leasing of 8,890 sq ft of office / lab space in Corporate Headquarters Property Search, in Huntsville, Alabama
 Huntsville, AL January 18, 2023 – NAI Chase Commercial, a member of the world's premier managed network of commercial real estate firms, announced today that it represented Eikon Research, Inc in the missile defense industry, in its search for 8,890 sq. ft office / lab space at 6767 Progress Centre, Building 7.  The office will serve as their new corporate headquarters.
Two members of Eikons leadership team, Stephanie Cunningham, CEO and Chezney Orcutt, CFO worked seamlessly with Joy Nalley and Doug McCullough of NAI Chase Commercial as their tenant representatives. Ms. Nalley was instrumental in scouring the market for suitable locations whilst Doug McCullough assisted in the final contract negotiations.    Eikon relocated their Discovery Drive location of several years to a property in Progress Centre near Bridge Street Town Centre.  Their new facility provides them with ample high-end lab space as well as serve as their corporate headquarters.
"Throughout our property search Doug and his team worked tirelessly to ensure all of our needs were met", said Orcutt.  "As our needs pivoted and the real estate market evolved, they didn't hesitate to go back to the drawing board and continue the hunt, we felt like a priority despite our size and really appreciated the hoops everyone jumped through."
"We are continuing to see businesses thrive in the Huntsville Market and we invite businesses to contact us if we can be of any assistance with their real estate needs in our local market or nationwide", said Doug McCullough.  "This lease is the latest of several recent major transactions we've represented in the Alabama Market, demonstrating a steady demand for commercial space."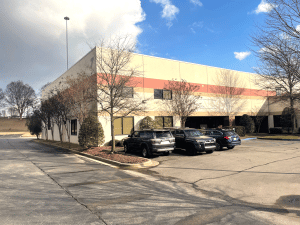 For more information on Eikon Research, Inc visit www.eikonresearch.com
ABOUT NAI CHASE COMMERCIAL
NAI Chase Commercial is recognized as one of the top full service commercial real estate companies in Alabama, with offices in both Birmingham and Huntsville, Alabama. In addition, NAI Chase Commercial is an Accredited Management Organization® (AMO®), a designation granted by the Institute of Real Estate Management in recognition of quality standards and best practices in property management and leasing services. The firm has been operating in Alabama and the Tennessee Valley since its founding in 1985. NAI Chase Commercial and its principals have over 60 years of combined real estate experience and is a leading full-service real estate organization with the ability to handle all facets of real estate transactions. Services include Office, Industrial and Retail Leasing and Sales, Commercial Development, Property Management, Asset Management, Facilities Management, Investment Brokerage and Construction/Renovation.
For more information on NAI Chase Commercial, please visit www.chasecommercial.com
ABOUT NAI GLOBAL
NAI Global is a leading global commercial real estate brokerage firm. NAI Global offices are leaders in their local markets and work in unison to provide clients with exceptional solutions to their commercial real estate needs. NAI Global has more than 300 offices strategically located throughout North America, Latin America, Europe, Africa and Asia Pacific, with over 5,100 local market professionals, managing in excess of 1.1 billion square feet of property and facilities. Annually, NAI Global completes in excess of $20 billion in commercial real estate transactions throughout the world.
NAI Global provides a complete range of corporate and institutional real estate services, including brokerage and leasing, property and facilities management, real estate investment and capital market services, due diligence, global supply chain and logistics consulting and related advisory services. To learn more, visit www.naiglobal.com.