NAI Chase Commercial Represents $4,146,750 Sale- Creekside, a 71,200 SF Multi-Tenant Complex, Huntsville, AL
PRESS RELEASE Huntsville, AL – October 5, 2021
NAI Chase Commercial Represented $4,146,750 Sale of Creekside, a 71,200 SF Multi-Tenant Office/Retail/Flex Complex on Behalf of Jim Vaughn with Southern States Leasing Company
HUNTSVILLE, AL October 5, 2021 – NAI Chase Commercial, an office of NAI Global, a leading global commercial real estate brokerage firm, announced today that it represented the sale of Creekside a ~71,200 SF Multi-Tenant Office/Retail/Flex Complex located at 2315 Bob Wallace Avenue and 2809 Newby Road owned by Southern States Leasing Company and sold to Creekside HSV, LLC.
"Conditions are prime for those looking to sell their investment property. A local investor purchased Creekside, as a value-add property with a strong rent roll and excellent upside potential. This sale is just one of the latest of several recent major transactions we've represented in Huntsville and the greater Alabama market. We work hard to bring value to each of our clients with the goal of exceeding their expectations. We invite you let us help you with your commercial property acquisition or disposition", said Ashley Farrell.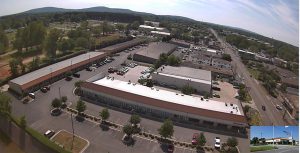 Creekside consists of five multi-tenant commercial buildings totaling ~71,200 square feet along with a parking pad on over 6 acres. The property offers retail, office, and office with warehouse space with some units including a garage door on grade. Creekside is centrally located in Huntsville less than a half mile from Whole Foods and other fine shops in Merchants Square.
ABOUT NAI CHASE COMMERCIAL

NAI CHASE COMMERCIAL, an Accredited Management Organization with its professional staff of real estate brokers with offices in Huntsville and Birmingham, Alabama provides Retail, Office and Industrial Commercial Property Brokerage, Leasing and Sales, Commercial Property Development, Commercial Property Management, Investment Property Brokerage, Construction Management Consulting, and Building Renovation Services. For more information on NAI Chase Commercial, please visit www.chasecommercial
ABOUT NAI GLOBAL
NAI Global is a leading global commercial real estate brokerage firm. NAI Global offices are leaders in their local markets and work in unison to provide clients with exceptional solutions to their commercial real estate needs. NAI Global has more than 375 offices strategically located throughout North America, Latin America, Europe, Africa, and Asia Pacific, with over 6,700 local market professionals, managing in excess of over 1.15 billion square feet of property.  Annually, NAI Global completes in excess of $20 billion in commercial real estate transactions throughout the world.
NAI Global provides a complete range of corporate and institutional real estate services, including brokerage and leasing, property and facilities management, real estate investment and capital market services, due diligence, global supply chain and logistics consulting and related advisory services.
To learn more, visit www.naiglobal.com or www.naiglobalnewslink.com