NAI Chase Commercial Real Estate Awarded Leasing Assignment of 450,000 Sq. Ft. at Inverness Center North, 40, 42, 44 Inverness Center Parkway, Birmingham, Alabama
PRESS RELEASE-
September 6, 2022
NAI Chase Commercial Real Estate Awarded Leasing Assignment of 450,000 Sq. Ft at Inverness Center North, 40, 42, 44 Inverness Center Parkway, Birmingham, Alabama
Birmingham, AL – September 6, 2022 – NAI Chase Commercial, a member of the world's premier managed network of commercial real estate firms, are pleased to announce they have been awarded the leasing assignment at Inverness Center North, a Class A master planned development located conveniently along Highway 280 in the heart of the U.S. 280/I-459 submarket in Hoover, Alabama.
"We are thrilled to be representing In-Rel Properties again and appreciate their trust and confidence they have given us over our twenty-year relationship", said Randy Thomas Executive Vice President of Brokerage of NAI Chase Commercial. Inverness Center North's competitive advantages include very efficient buildings with an average of 23,500 square foot rectangular floor plates providing significant space planning flexibility and easy to design daylight space environments with lake views for larger tenants, as well as build to suit smaller office spaces.  The premiere location in the epicentre of the Highway 280 submarket has superior access for tenant end users. The property is positioned to offer aggressive rental rates and occupancy costs when compared to the competition.  This assignment along with several other recent transactions with the In-Rel Properties client demonstrates a steady demand for commercial office space."
"We purchased Inverness Center at the right price, allowing us to pass on substantial savings to our future tenants" said Dennis Udwin, Founding Principal of In-Rel Properties.
Inverness Center North consists of 450,000 square feet in three distinct buildings and offers a unique, amenity-rich, office park experience in a natural and tranquil lake setting.  The property is undergoing extensive renovations with unique property features adding refreshing finishes and amenities to the buildings unlike anything in the Birmingham market.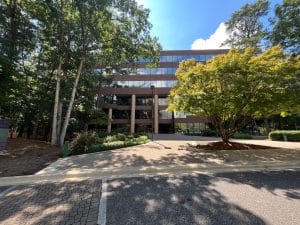 ABOUT NAI CHASE COMMERCIAL
NAI Chase Commercial is recognized as one of the top full service commercial real estate companies in Alabama, with offices in both Birmingham and Huntsville, Alabama. In addition, NAI Chase Commercial is an Accredited Management Organization® (AMO®), a designation granted by the Institute of Real Estate Management in recognition of quality standards and best practices in property management and leasing services. The firm has been operating in Alabama and the Tennessee Valley since its founding in 1985. NAI Chase Commercial and its principals have over 60 years of combined real estate experience and is a leading full-service real estate organization with the ability to handle all facets of real estate transactions. Services include Office, Industrial and Retail Leasing and Sales, Commercial Development, Property Management, Asset Management, Facilities Management, Investment Brokerage and Construction/Renovation.
For more information on NAI Chase Commercial, please visit www.chasecommercial
ABOUT NAI GLOBAL
NAI Global is a leading global commercial real estate brokerage firm. NAI Global offices are leaders in their local markets and work in unison to provide clients with exceptional solutions to their commercial real estate needs. NAI Global has more than 300 offices strategically located throughout North America, Latin America, Europe, Africa, and Asia Pacific, with over 5,100 local market professionals, managing more than 1.1 billion square feet of property and facilities. Annually, NAI Global completes more than $20 billion in commercial real estate transactions throughout the world.
NAI Global provides a complete range of corporate and institutional real estate services, including brokerage and leasing, property and facilities management, real estate investment and capital market services, due diligence, global supply chain and logistics consulting and related advisory services. To learn more, visit www.naiglobal.com.