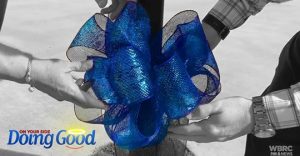 BIRMINGHAM, AL (WBRC) – The Arbors subdivision in Moody is covered up with blue bows. There are more than a hundred mailboxes adorned with the bows which stand as a salute of support to first responders. It's all part of the "Turning The Arbors Blue" project started by Larry and Peggy King. They wanted to show support for police officers, deputies, firefighters and anyone who comes to the rescue.
Patti Rosenow is one of the neighbors active in the homeowners association. She says everyone jumped on board when they heard about the plan. "Every time you turn on the TV there's police-involved shooting, or shooting in schools and churches and those guys put their lives on the line every day for us."
There are 106 blue bows in The Arbors. Each neighbor paid $5 for a bow. Free bows were given to the half dozen first responders living in the neighborhood.
Rosenow says they especially wanted those families to get the message. "This was just a small way that we could say to the ones that live in our neighborhood, 'Hey we love you, we're here for you and we appreciate what you do for us.'"
You can join The Arbors neighbors for the City of Moody's First Responders Night Out. It's Sunday, May 5th from 4 to 7 pm at the Moody Civic Center.
Read the full story HERE